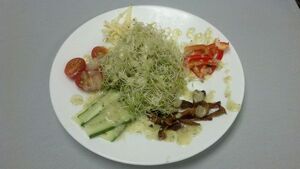 Do the words "bacon" and "healthy" belong in the same sentence? OF COURSE NOT! But with this refreshing salad you can at least try to minimize the problems inherent in a high-bacon diet!
Goes well with a triple-caramel gelato milkshake.
Ingredients
Edit
4 cups bacon
2 cups pasta
1 cooked (baked) apple
3 cups water
¼ cup mayonnaise
¼ cup plain tomato paste
1½ teaspoons salt
1½ teaspoons pepper
Directions
Edit
Prepare dressing by combining and stirring all ingredients until well blended.
Combine bacon, pasta and apple.
Pour dressing over top.
Serve.