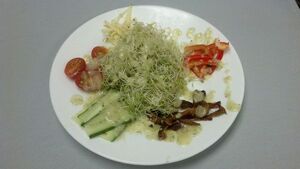 Do the words "bacon" and "healthy" belong in the same sentence? OF COURSE NOT! But with this refreshing salad you can at least try to minimize the problems inherent in a high-bacon diet!
Goes well with a triple-caramel gelato milkshake.
Ingredients
Edit
4 cups bacon
2 cups pasta
1 cooked (baked) apple
3 cups water
¼ cup mayonnaise
¼ cup plain tomato paste
1½ teaspoons salt
1½ teaspoons pepper
Directions
Edit
Prepare dressing by combining and stirring all ingredients until well blended.
Combine bacon, pasta and apple.
Pour dressing over top.
Serve.
Ad blocker interference detected!
Wikia is a free-to-use site that makes money from advertising. We have a modified experience for viewers using ad blockers

Wikia is not accessible if you've made further modifications. Remove the custom ad blocker rule(s) and the page will load as expected.