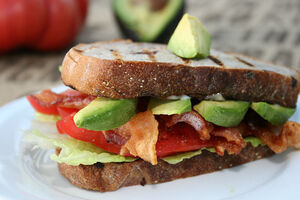 A new twist on an old favorite: substitute California avocado for lettuce to make a delicious Bacon, avocado, and tomato sandwich.
Ingredients
Edit
8 slices of bacon, cooked crisp
2 tomatoes, thinly sliced
1 large or 2 small California avocados, peeled & thinly sliced
1 medium sweet onion, thinly sliced
4 slices bread
mayo to taste
Salt & pepper
Directions
Edit
Fry the Bacon until crisp
Build as two sandwiches
Slice in diagonal quarters
Enjoy! (sharing is optional)
Ad blocker interference detected!
Wikia is a free-to-use site that makes money from advertising. We have a modified experience for viewers using ad blockers

Wikia is not accessible if you've made further modifications. Remove the custom ad blocker rule(s) and the page will load as expected.