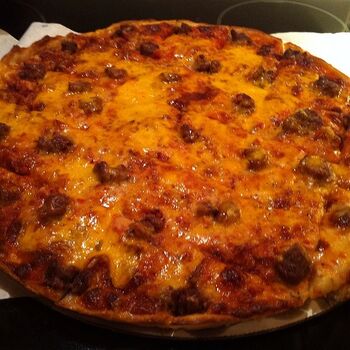 American version on the classic Italian dish...
...With bacon!
Ingredients
Edit
2¾ to 3¼ cups all-purpose flour
1 package active dry yeast
¼ teaspoon salt
1 cup warm water (120°F to 130°F)
2 tablespoons cooking oil
¾ cup chopped onion
2 cloves garlic, Minced
1 tablespoon olive oil, margarine, or butter
1 x 14½-ounce can tomatoes, cut up
1 x 8-ounce can tomato sauce
1 bay leaf
1 tablespoon snipped fresh basil or 1 teaspoon dried basil, crushed
1 tablespoon snipped fresh oregano or 1 teaspoon dried oregano, crushed
1 teaspoon fennel seed, crushed (optional)
½ teaspoon sugar
¼ teaspoon pepper
1 pound ground beef
1 cup chopped onion
2 medium tomatoes, very thinly sliced
6 slices bacon, cut into 2-inch pieces, crisp-cooked, and drained
3 cups shredded Cheddar, Amerian, or Cojack cheese (12 ounces)
Directions
Edit
Pizza sauce
Edit
Cook ¾ cup chopped onion and garlic in 1 tablespoon oil.
Stir in tomatoes, tomato sauce, bay leaf, basil, oregano, fennel seed, if desired, sugar, and pepper.
Bring to boiling. Reduce heat; Simmer, uncovered, for 35 to 40 minutes or to desired consistency, stirring occasionally. Discard bay leaf.
Pizza dough
Edit
Meanwhile, in a large bowl combine 1¼ cups of the flour, the yeast, and the salt.
Add warm water and 2 tablespoons oil.
Beat with an electric mixer on low speed for 30 seconds, scraping bowl constantly.
Beat on high speed for 3 minutes.
Using a spoon, stir in as much of the remaining flour as you can.
Turn dough out onto a lightly floured surface.
Knead in enough remaining flour to make a moderately stiff dough that is smooth and elastic (6 to 8 minutes total).
Divide dough in half. Cover and let rest 10 minutes.
Grease two 11- to 13-inch pizza pans or baking sheets.
On a lightly floured surface, roll each half of dough into a circle 1 inch larger than pizza pan.
Transfer dough to pans. Build up edges slightly. Prick generously with a fork. Do not let rise.
Bake in a 425°F oven for 10 to 12 minutes or until lightly browned.
Meanwhile, in a large skillet cook ground beef and the 1 cup chopped onion until meat is brown and onion is tender. Drain fat.
Spread pizza sauce over hot crusts.
Sprinkle with ground beef mixture.
Top with tomato slices and bacon pieces.
Sprinkle with cheese.
Bake about 12 minutes more or until cheese melts and sauce is bubbly.
If desired, substitute one 15-oz. can or 15½-oz. jar pizza sauce for the homemade sauce.
Make-ahead tip: Prepare pizza sauce; cool. Transfer to freezer container. Seal, label, and freeze up to 1 month. Thaw overnight in refrigerator before using.
Make-ahead tip: Prepare pizza dough; divide into 2 equal portions. Place in plastic freezer bags. Seal, label, and freeze up to 1 month. Thaw overnight in refrigerator before using.
Ad blocker interference detected!
Wikia is a free-to-use site that makes money from advertising. We have a modified experience for viewers using ad blockers

Wikia is not accessible if you've made further modifications. Remove the custom ad blocker rule(s) and the page will load as expected.