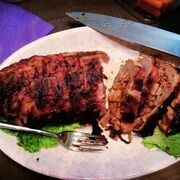 Because one Bacon Explosion recipe is not enough:
I love bacon, it is amazing... see below for a different way that made this concoction less salty and more delicious:
Finished confection: Bacon Explosion a.k.a. Porky's Revenge
Edit
2 lbs bacon
1.5 lbs loose Italian sausage
0.5 lb cheddar
BBQ Dry Rub
Bottle of Sweet Baby Ray's
No Regrets
More to come... 
Ad blocker interference detected!
Wikia is a free-to-use site that makes money from advertising. We have a modified experience for viewers using ad blockers

Wikia is not accessible if you've made further modifications. Remove the custom ad blocker rule(s) and the page will load as expected.