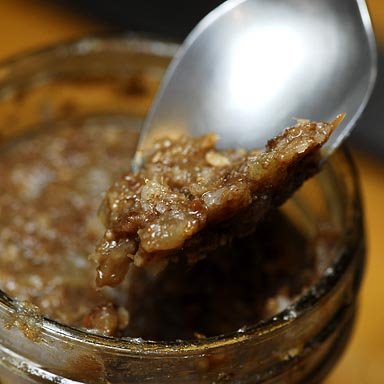 Bacon Jam is an original recipe by the food blogger, Not Quite Nigella. Not Quite Nigella created the recipe after hearing about bacon jam from fellow food blogger, Morta Di Fame. Because ready-made bacon jam was only available outside her country, Not Quite Nigella created her own recipe for the delicacy.
Ingredients
Edit
Not Quite Nigella lists the ingredients for bacon jam as such:
500grams/1 pound smoked bacon (or use regular bacon and liquid smoke)
4 cloves garlic, chopped
1 medium brown onion sliced
3 tablespoons brown sugar
Tabasco sauce (according to taste)
1 cup coffee
1/4 cup apple cider vinegar
1/4 cup maple syrup
Black pepper to taste
extra water
Preparation
Edit
1.) The bacon is cut into 1" pieces and then fried in a non-stick skillet until slightly crispy and browned.
2.) On medium heat, use the bacon fat left over to fry the onion and garlic until translucent.
3.) Put the bacon, onions and garlic in a cast-iron pot. Add all of the other ingredients except for water. Add 1/4 cup of water every 25-30 minutes for two hours, keeping the pot at a simmer.
4.) After the two hours are up, cool the bacon mixture for 15-20 minutes and then transfer to a food processor. Pulse for 2-3 seconds. You are done when you see the consistency you prefer!
For More Information
Edit