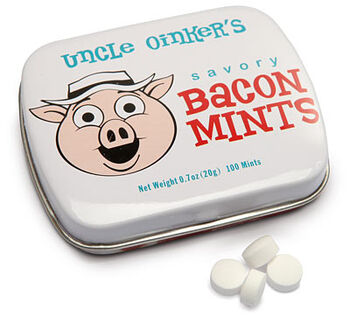 Bacon Mints are a novelty brand of mints produced by Thinkgeek. As the name suggests, they are mints with bacon flavor.
Thinkgeek description
Edit
"Sometimes the only way to grow as a person is to take risks and try things you would not normally try. Like combining snowboarding and water balloon fights or bacon and mint. Well, we ain't trying Water Balloon Snowboarding, but we certainly will eat up some tasty Bacon Mints."
"Bacon Mints taste like a mint leaf delicately kissed a slice of crispy bacon. And though that might sound weird, once you taste it you'll understand. For Bacon Mints prove one thing: mint and bacon is a match made in heaven. Hog Heaven. Sorry."
Archie McPhee also sells bacon mints; their tin features Mr. Bacon.