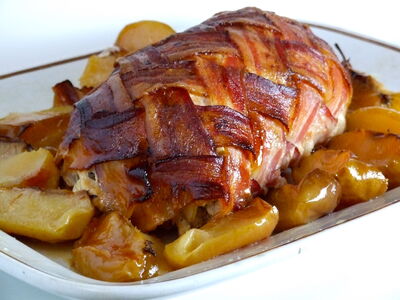 Bacon makes everything better.
Everything...
Ingredients
Edit
5 slices Smoked Uncured Bacon
1 pork tenderloin (1 lb.)
1/4 tsp. cracked black pepper
1/4 cup brown sugar
2 Tbsp. apple juice
1 tsp. Dijon Mustard
1 Dash ground nutmeg
Directions
Edit
Heat oven to 400ºF.
Lubricate foil-lined pan with cooking spray (resist the urge to use bacon fat)
Wrap bacon around the loin (a Bacon Weave is ideal for this application)
Sprinkle wrapped loin with pepper
Bake 20 min. (or until cooked to 135ºF)
Bring remaining ingredients to boil in saucepan on medium heat, stirring occasionally
Brush meat with resulting glaze
Bake 10 min. (or until cooked to 145ºF)
Cover loosely with foil
Let stand 5 min. before slicing.