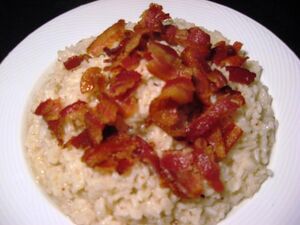 Rice is one of the greatest sources of food in the world, and it can be prepared a myriad of ways; most are awesomely good, but few can match the sheer level of baconicityof Bacon with rice.
Is it good?
IT'S GOT BACON! WHAT DO YOU THINK?
Ingredients
Edit
Instructions
Edit
Cut bacon strips into 1cm squares
Fry up the bacon until just before crisping.
Save the rendered Bacon Grease.
Prepare the rice in whatever manner preferred, substituting bacon fat for oil.
Add bacon squares to rice halfway through cooking.
Serve with a strip or two of crisped bacon on top.
Goes great with baked beans.
Ad blocker interference detected!
Wikia is a free-to-use site that makes money from advertising. We have a modified experience for viewers using ad blockers

Wikia is not accessible if you've made further modifications. Remove the custom ad blocker rule(s) and the page will load as expected.