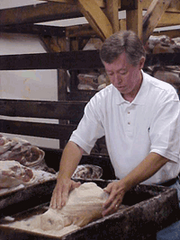 Benton's Smoky Mountain Country Hams is a small Tennessee-based ham and bacon company that utilizes a traditional dry-curing process and aging for flavor.
History of Benton's Hams
Edit
Benton's was started in 1947 by Albert H. Hicks, a dairy farmer. [1]
Benton's offers country hams (both unsmoked and smoked), aged whole country hams, and hickory smoked bacon.
↑

And true Tennessee hero.
Ad blocker interference detected!
Wikia is a free-to-use site that makes money from advertising. We have a modified experience for viewers using ad blockers

Wikia is not accessible if you've made further modifications. Remove the custom ad blocker rule(s) and the page will load as expected.