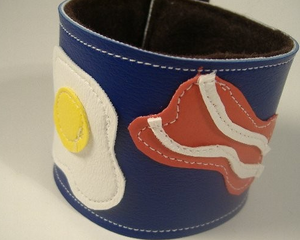 The bracelet isn't made of completely out of bacon, but even the fun bacon adornments can make your mouth water. Try these "bacon bits" with your next outfit.
Goes well with a Bacon Necklace.
Other, more traditional, bracelets can also be found:
Ad blocker interference detected!
Wikia is a free-to-use site that makes money from advertising. We have a modified experience for viewers using ad blockers

Wikia is not accessible if you've made further modifications. Remove the custom ad blocker rule(s) and the page will load as expected.