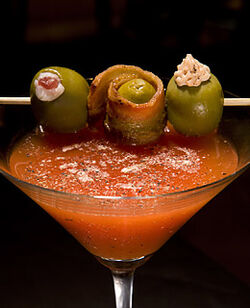 This is the legendary Bacon Martini cocktail created by Master Mixologist Heidi Hinkle of Sirio Ristorante at Aria Resort and Casino, Las Vegas, NV.
Ingredients
Edit
2 oz. tomato vodka (Crop Harvest Earth recommended)
1 oz. tomato juice
1/4 bar spoon of beef bouillon granules
1 dash of Worcestershire sauce
Directions
Edit
Combine ingredients in a cocktail shaker with ice cubes
Shake vigorously and strain into a chilled cocktail glass
Sprinkle with ground black pepper and home-made bacon powder (see recipe below)
Garnish with Bacon Olive Trio (see recipe below)
Bacon Powder
Edit
Cook bacon and set aside.
Place the bacon fat in a food processor and add 2 parts Tapioca Maltodextrose.
Mix at slow speed.
The maltodextrose absorbs the bacon fat and creates the bacon powder.
Bacon Olive Trio
Edit
Bacon Mousse Olive: Place cream cheese and cooked chopped bacon in food processor, mix until smooth. Place mousse into pastry bag and use it to fill a large, pitted Spanish olive.
Deep-Fried Bacon-Wrapped Olive: Wrap a thin slice of raw pancetta around a large Spanish olive, secure with toothpick. Pan-sear the bacon fat until crispy.
Prosciutto-Stuffed Olive: Tightly roll thinly sliced prosciutto and insert into a large, pitted Spanish olive.
Ad blocker interference detected!
Wikia is a free-to-use site that makes money from advertising. We have a modified experience for viewers using ad blockers

Wikia is not accessible if you've made further modifications. Remove the custom ad blocker rule(s) and the page will load as expected.