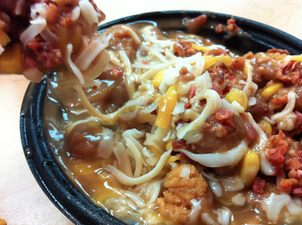 The
Cheesy Bacon Bowl
is
KFC's
updated version of their Famous Bowl, which consists of mashed potatoes, gravy, corn, cheese, and fried chicken. The addition of
bacon
to the said bowl makes it a Cheesy Bacon Bowl, which was a smart move by the Colonel to sell more of these things. Everyone knows that if you add bacon, people will love it more.
There is no official calorie count for this monstrosity quite yet, but if you take the 680 calories from the Famous Bowl, and factor in about two tablespoons of bacon bits (approximately 60 calories), you have a total of 740 calories.
The Cheesy Bacon bowl is available for a limited time for $3.99 at participating locations.
Ad blocker interference detected!
Wikia is a free-to-use site that makes money from advertising. We have a modified experience for viewers using ad blockers

Wikia is not accessible if you've made further modifications. Remove the custom ad blocker rule(s) and the page will load as expected.