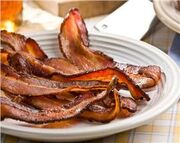 Dakin Farm is a Vermont-inspired food brand specializing in meats, breakfast foods and desserts. Their bacon selection is extensive, offering Canadian bacon, maple-glazed bacon, cob-smoked bacon and much more.
History of Dakin Farm
Edit
Timothy Dakin started Dakin Farm in 1792. For the past forty years, the Cutting family, including the company's president, Sam Cutting, have owned and operated Dakin Farm.
Dakin Farm is known for their ham, bacon and cheese. They specialize in breakfast food. Many of their recipes and foods incorporate maple syrup, such as the maple sausage chili, maple barbeque sauce and maple mustards. Dakin Farm aims to bring the best foods of Vermont to your kitchen table.
External Links
Edit