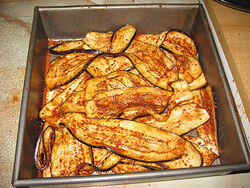 Eggplant Bacon is a vegan "bacon substitute" that bears no resemblance at all to any kind of bacon.
It is eggplant sliced lengthwise, seasoned and cooked. The only people who might be fooled are those who have never had bacon before in their lives.
The recipe is presented herein so that readers don't have to take this writer's word for it: it is just plain bad.
WARNING: Prepare only at the risk of your sanity.
Ingredients
Edit
1/2 pound eggplant
1/8 cup soy sauce
1/2 teaspoon liquid smoke
Cooking spray
Directions
Edit
Preheat oven to 425 F. Line a large baking sheet with parchment paper.
Prep the eggplant while the oven is preheating; cut eggplants lengthwise into strips, rinse and pat dry.
Cover baking sheets in parchment paper and spray lightly with cooking spray.
Arrange eggplant pieces in a single layer and spray lightly once more.
Place in oven and bake for about 8 minutes, rotating pan halfway through baking.
Remove from oven and flip slices over.
Return strips to the oven and bake for an additional 3 minutes.
Remove from oven: Eggplant should be dark brown to burnt in some places, and yellowish white and tender in some places.
Transfer to a plate to halt cooking process.
Reduce heat to 350 F.
Combine soy sauce and liquid smoke in a large bowl.
Quickly soak eggplant slices in liquid mixture, shake excess and return to the baking sheet.
Bake for about 3 minutes, until heated through.
Transfer to plate and serve.