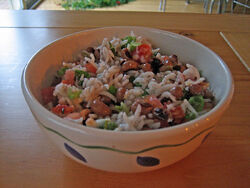 Hoppin' John is a dish served in the Southern United States consisting of black-eyed peas and rice, with chopped onion and sliced bacon, seasoned with a bit of salt.
Ingredients
Edit
1 cup dried blackeye Peas
1/2 pound rindless slab Bacon, in one piece
1 1/2 quarts water
1 cup chopped Onion
1 clove garlic, minced
1 to 2 teaspoons salt
1/2 to 1 teaspoon crushed red pepper
2 cups hot cooked rice
Directions
Edit
Barely cover Peas with cold water and soak overnight. Drain.
Cook Bacon in water about 1 hour.
Add Peas, garlic, Onion, salt and pepper. Cover and continue cooking for 1 hour or until blackeyes are tender.
Remove Bacon, slice, and set aside, keeping it warm.
Drain blackeyes, if desired.
Add rice and fluff lightly.
Serve with sliced Bacon.