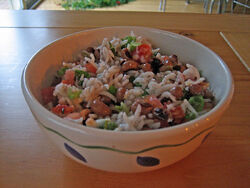 Hoppin' John is a dish served in the Southern United States consisting of black-eyed peas and rice, with chopped onion and sliced bacon, seasoned with a bit of salt.
Ingredients
Edit
1 cup dried blackeye Peas
1/2 pound rindless slab Bacon, in one piece
1 1/2 quarts water
1 cup chopped Onion
1 clove garlic, minced
1 to 2 teaspoons salt
1/2 to 1 teaspoon crushed red pepper
2 cups hot cooked rice
Directions
Edit
Barely cover Peas with cold water and soak overnight. Drain.
Cook Bacon in water about 1 hour.
Add Peas, garlic, Onion, salt and pepper. Cover and continue cooking for 1 hour or until blackeyes are tender.
Remove Bacon, slice, and set aside, keeping it warm.
Drain blackeyes, if desired.
Add rice and fluff lightly.
Serve with sliced Bacon.
Ad blocker interference detected!
Wikia is a free-to-use site that makes money from advertising. We have a modified experience for viewers using ad blockers

Wikia is not accessible if you've made further modifications. Remove the custom ad blocker rule(s) and the page will load as expected.