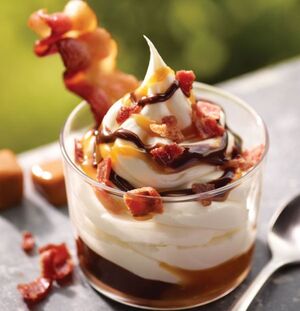 Some people like to put bacon in ice cream, particularly vanilla soft-serve. It is a rarely seen possibility in many popular restaurants such as McDonald's. The taste is said to be, naturally sweet, similar to Candied Bacon, and the two contrasting flavors act as foils. For the bacon connoisseur, this could potentially pose a very interesting combination.
Ad blocker interference detected!
Wikia is a free-to-use site that makes money from advertising. We have a modified experience for viewers using ad blockers

Wikia is not accessible if you've made further modifications. Remove the custom ad blocker rule(s) and the page will load as expected.