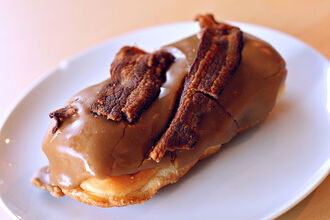 The maple bacon doughnut is a culinary dessert/snack specialty that has become popular in some areas of the United States. They are distinct from other doughnuts because of the prominent bacon and maple syrup flavored glaze used for toppings.
Ad blocker interference detected!
Wikia is a free-to-use site that makes money from advertising. We have a modified experience for viewers using ad blockers

Wikia is not accessible if you've made further modifications. Remove the custom ad blocker rule(s) and the page will load as expected.