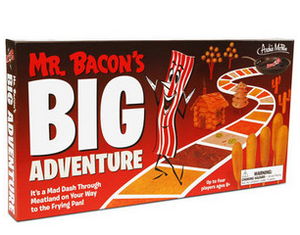 Mr. Bacon's Big Adventure is a bacon-themed board game designed for bacon lovers of all ages! Gameplay resembles that of Candyland and features areas such as "Mustard Marsh" and "Wiener Wasteland". The objective is to be the first to reach the frying pan to be eaten!

...wait, what?
Outside links
Edit
Ad blocker interference detected!
Wikia is a free-to-use site that makes money from advertising. We have a modified experience for viewers using ad blockers

Wikia is not accessible if you've made further modifications. Remove the custom ad blocker rule(s) and the page will load as expected.