Pigs in blankets (or pigs in a blanket) are a variety of different sausage-based foods in the United States, United Kingdom, Denmark, Ireland, Germany, Belgium, Russia, Canada, and Japan. Many are large, but other recipes call for a dish that is small in size and can be eaten in one or two bites. For this reason, they are usually served as an appetizer or hors d'oeuvre or are accompanied by other dishes in the 'main course' section of a meal. In the West, especially in the United States and Canada, the bite-sized variety of pig in a blanket is a common hors d'oeuvre served at cocktail parties and is often accompanied by a mustard or aioli dipping sauce.
United Kingdom
Edit
In the United Kingdom, "pigs in blankets" refers to small sausages (usually
chipolatas
) wrapped in
bacon
.
Usually served at Christmas lunch or with roast dinners, pigs in blankets are now considered a traditional part of the Christmas meal.
United States
Edit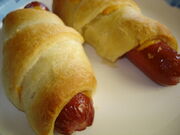 In the United States, the term "pigs in a blanket" often refers to hot dogs, or breakfast/link sausages wrapped in biscuit dough, pancake, or croissant dough and baked. The dough is sometimes homemade, but canned dough is most common. They are somewhat similar to a sausage roll or (by extension) a baked corn dog. They are served as an appetizer, a children's dish, or as a breakfast entree. A common variation is to stuff the hot dog or sausage with cheese before wrapping it in dough. At the restaurant chain
IHOP
, the term "pigs in a blanket" refers to sausage links with pancake wrapped around it.