United Kingdom
Edit
In the United Kingdom, "pigs in blankets" refers to small sausages (usually
chipolatas
) wrapped in
bacon
.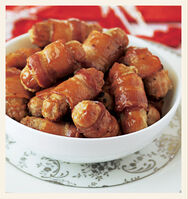 Usually served at Christmas lunch or with roast dinners, pigs in blankets are now considered a traditional part of the Christmas meal.
United States
Edit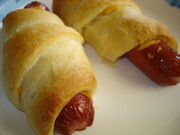 In the United States, the term "pigs in a blanket" often refers to hot dogs, or breakfast/link sausages wrapped in biscuit dough, pancake, or croissant dough and baked. The dough is sometimes homemade, but canned dough is most common. They are somewhat similar to a sausage roll or (by extension) a baked corn dog. They are served as an appetizer, a children's dish, or as a breakfast entree. A common variation is to stuff the hot dog or sausage with cheese before wrapping it in dough. At the restaurant chain IHOP, the term "pigs in a blanket" refers to sausage links with pancake wrapped around it.
Ad blocker interference detected!
Wikia is a free-to-use site that makes money from advertising. We have a modified experience for viewers using ad blockers

Wikia is not accessible if you've made further modifications. Remove the custom ad blocker rule(s) and the page will load as expected.