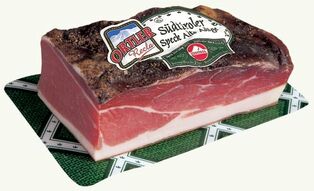 Speck is a distinctively juniper-flavored ham originally from Tyrol, a historical region that since 1918 partially lies in Austria and partially in Italy. Speck's origins at the intersection of two culinary worlds is reflected in its synthesis of salt-curing and smoking.
In parts of the English-speaking culinary world, the term "speck" refers to Italian speck, a type of prosciutto, rather than German speck, which is identical to the Italian "lardo".
Ad blocker interference detected!
Wikia is a free-to-use site that makes money from advertising. We have a modified experience for viewers using ad blockers

Wikia is not accessible if you've made further modifications. Remove the custom ad blocker rule(s) and the page will load as expected.