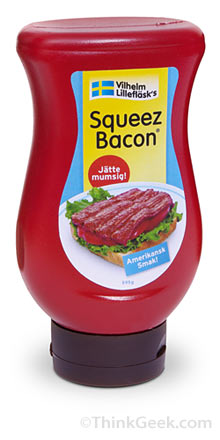 The World's Most Perfect Food, now in the form of a squeeze bottle!
A few years after WWII ended, a young man working in a small restaurant in Sweden developed a new way to process bacon. By precooking it and blending it in a special way, he was able to make a fully cooked 100% bacon paste that could be squeezed from a tube. Knowing he had discovered something paradigm-shifting, young Vilhelm Lillefläsk quickly went into business. That, dear friends, is when Squeez Bacon® was born. And this delicious delectable from Sweden has finally been brought over to the USA - now with American Flavor!
How to Order
Edit
Sadly, you can't; Squeez Bacon is a 2009 April Fool's hoax crafted by our friends at Thinkgeek.
However, real products do exist that serve in the same application, like Smoky Bacon Paste.
Ad blocker interference detected!
Wikia is a free-to-use site that makes money from advertising. We have a modified experience for viewers using ad blockers

Wikia is not accessible if you've made further modifications. Remove the custom ad blocker rule(s) and the page will load as expected.