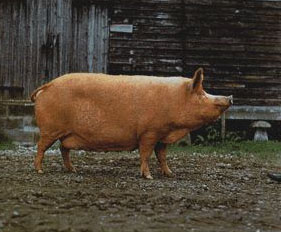 The Tamworth is a breed of domestic pig originating in the United Kingdom.
Along with the Yorkshire, it is among the oldest of pig breeds but as with many older breeds of livestock it is not well suited to modern production methods and is listed as "Threatened" in the United States and "Vulnerable" in the UK. There are now fewer than 300 registered breeding females in the United Kingdom, Australia, USA, New Zealand and Canada.
Ad blocker interference detected!
Wikia is a free-to-use site that makes money from advertising. We have a modified experience for viewers using ad blockers

Wikia is not accessible if you've made further modifications. Remove the custom ad blocker rule(s) and the page will load as expected.