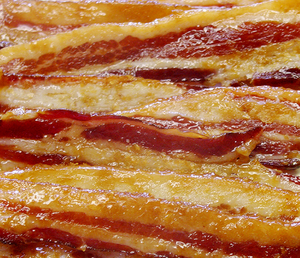 Perhaps you're surprised (or not so surprised) to hear that bacon now has an international holiday called Bacon Day. No, you don't get off from school or work, but you won't have to, because Bacon Day is on a Saturday--specifically, September 3, 2011.
So, what does Bacon Day entail? For bacon fans (or in other words, fans of deliciousness), international Bacon Day is comprised of bacon-themed social gatherings, which include bacon drinks, entrees, desserts, and the like. Yes, you heard me--bacon drinks. If you're in the mood for some alcoholic beverages inspired by bacon, check out bacontoday for some cocktail recipes.
So, what are you doing on international Bacon Day? Throwing a bacon-themed party of hoglike proportions? Enjoying the strip of bacon you normally deny yourself? Or perhaps eating a vegetarian salad and rueing the people who created Bacon Day? Comment below!
Source: Bacontoday.com
Ad blocker interference detected!
Wikia is a free-to-use site that makes money from advertising. We have a modified experience for viewers using ad blockers

Wikia is not accessible if you've made further modifications. Remove the custom ad blocker rule(s) and the page will load as expected.