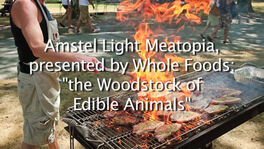 For you New Yorkers out there, get ready for Josh Ozersky's mouth-watering meaty festival, Meatopia, with this suitably intriguing trailer. The trailer shows off the list of chefs lined up for the event where the "smell of
bacon
wafts on the breeze."
I should tell you though, the theme song for this video is extremely catchy. Don't say I didn't warn you.... thumb|left|400px
Ad blocker interference detected!
Wikia is a free-to-use site that makes money from advertising. We have a modified experience for viewers using ad blockers

Wikia is not accessible if you've made further modifications. Remove the custom ad blocker rule(s) and the page will load as expected.