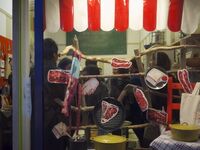 I often find myself pondering how I can get more bacon into my life. The best answer I came up with is to be hooked up to a tube of concentrated bacon extract... Short of that drastic measure, I suppose I could attend events dedicated to my favorite cut of pork!
Pot and Pantry recently held one such, bacon inspired, event called Meat Madness in San Fancisco, CA! The bacon extravaganza displayed local artist, Alyson Thomas', pig themed works of art. While expectations seemed low, the event was a success with one hundred attendees! Check out photos from the exhibit below!
Gallery

The bacon sugar cookies were created by Eleventy, for instructions and more photos on how to make this delicious treats please check out here
What are your thoughts on art exhibitions like this? Good-nature fun or too gimmicky? Would you consider buying any of these pieces? Please share your thoughts.
Sources
External links
Ad blocker interference detected!
Wikia is a free-to-use site that makes money from advertising. We have a modified experience for viewers using ad blockers

Wikia is not accessible if you've made further modifications. Remove the custom ad blocker rule(s) and the page will load as expected.