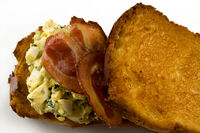 Over at Chow.com, they may love bacon perhaps as much as we do. In fact, they have compiled a huge collection of bacon recipes on their site and many of them are extremely interesting. Some of their recipes include - Bacon, Apple, and Blue Cheese Omelet, Campfire Trout with Herbs and Bacon, and Bacon and Cheddar Deviled Eggs.
If you are looking for a little bit of bacon inspiration and how to take your bacon to new levels, please check out their recipes over there. Also, be sure to share with us which one of their recipes is most interesting and fascinating to you.
Image Gallery
Source
Ad blocker interference detected!
Wikia is a free-to-use site that makes money from advertising. We have a modified experience for viewers using ad blockers

Wikia is not accessible if you've made further modifications. Remove the custom ad blocker rule(s) and the page will load as expected.